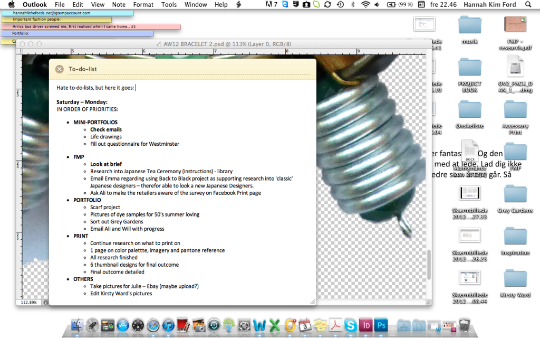 Extremely busy and trying to demonstrate that by doing a to-do-list screen shoot seems ridiculous considering how small the text is now! Haha, silly me!
Saturday – Monday:
IN ORDER OF PRIORITIES:
MINI-PORTFOLIOS

Check emails
Life drawings
Fill out questionnaire for Westminster
FMP

Look at brief
Research into Japanese Tea Ceremony (instructions) - library
Email Emma regarding using Back to Black project as supporting research into 'classic' Japanese designers – therefor able to look a new Japanese Designers.
Ask Ali to make the retailers aware of the survey on Facebook Print page

PORTFOLIO

Scarf project
Pictures of dye samples for 50's summer loving
Sort out Grey Gardens
Email Ali and Will with progress

PRINT

Continue research on what to print on (garments, canvas etc.)

1 page on color palettte, imagery and pantone reference

All research finished

6 thumbnail designs for final outcome
Final outcome detailed

OTHERS

Take pictures for Julie – Ebay (maybe upload?)
Edit Kirsty Ward's pictures
Have a great weekend!
xoxo
Hannah